Star Awards
This form is designed to give you an opportunity to recognize a staff member who has demonstrated exceptional service. If you observe exceptional service and would like to nominate an employee of Capital Region Medical Center please fill out the following form.
Nominate a staff member for the Star Award
Star Award recipients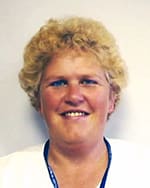 January 2020
Chris Rademann, Scheduler
Chris came into the office on Christmas day, leaving her family celebration just to check her voicemails regarding pre-certification for a patient who desperately needed surgery. She worked diligently over the holiday break to ensure that the patient could have their surgery bright and early the day after Christmas. She went above and beyond, and selflessly worked to make sure our patient had the best care and that they wouldn't have to worry about insurance coverage while they recovered. Thank you, Chris for being the best example of our Better. Every day mentality here at CRMC.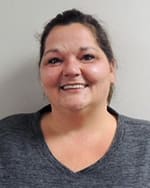 February 2020
Janlenna Masterson, Progressive Care Unit
During the first few nights of my father's admission to the hospital, he was in so much discomfort that he was unable to hold his body still, much less sleep. Janlenna went FAR BEYOND her job description in providing personal and compassionate care. During the night, Janlenna would sit beside my father's bed while he was in discomfort and just rub his arm to help calm his body movements. She would do this the entire night while also typing in notes on her laptop. Later in the week, she was working in a different area of the hospital and went out of her way to stop by his room and see how he was doing. What an amazing person!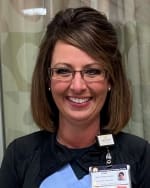 March 2020
Tina Coffelt, Pre-Op
I did not want to be at the hospital, nor was I at all thrilled to be having a heart cath. Tina introduced herself to me and from that moment on she made me feel at ease and comfortable. She did and amazing job with my IV and we just chatted like old friends. She was so attentive to my bad attitude (about my procedure) that in all honesty, when they took me back for the test, I was relaxed and no longer worried. I hope I never have to go through this again, but if I do, I would request to have Tina. Thank you, Tina - there should be more like you!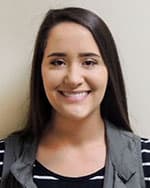 April 2020
Macey Imler, Progressive Care Unit
On April 4th, in the middle of the COVID-19 outbreak, Macey was working on 3 South caring for patients. One of her patients was very sick and going to pass away, but was unable to have family present during this difficult time. Macey made contact with the family and made sure that they could all speak with the patient on the phone and say their 'good-byes'. As the patient began to worsen, Macey sat holding this patient's hand, providing her comfort as she passed away. Macey is a star and went above and beyond during this difficult time to humbly provide comfort and care. KUDOS to Macey!

May 2020
Kristina Golden, Progressive Care Unit
Kristina Golden is a gifted nurse who cares for her patients with excellence, not only in skill, but also with great compassion and a beautiful spirit. She truly cares about what her patients and their families are facing. She also values the spiritual needs of her patients and their families, and she is always right on target when she asks the Chaplain to stop by. The Chaplain knows if Kristina calls, spiritual care is not a "maybe" or a "question"; it is a need and extremely important. She called for the Chaplain recently for a young patient who was nearing death. The patient's family was at bedside and had not anticipated the rapid decline they were witnessing. With tears welling in her eyes, she joined the family as the Chaplain prayed. No words could fully describe the tenderness of those moments she shared with the patient and her family. Her tears said it all. Kristina knows that being an excellent nurse requires more than excellent skills. It requires heart. Thank you, Kristina, for the depth of your care and the fullness of your heart as you serve with excellence. You are a STAR!

June 2020
Jessica Gilmore, Speech Therapy
Jessica Gilmore is an exceptional therapist and is always willing to assist therapists and patients! She is extremely knowledgeable in therapeutic interventions. She was recently working with a stroke patient when she observed some concerning neurological changes and head twitches the patient was demonstrating that she had never noted before. She began to ask questions to assess if the patient was experiencing any additional difficulties. The patient reported experiencing increased headaches with increased severity. She gained verbal consent from the patient to contact the spouse to report her concerns. She also asked a nurse from Corporate and Community Health to assess the patient. Both Jessica and the nurse agreed the patient should go to the ER. Jessica communicated this to the spouse and the spouse agreed. Jessica remained after hours at the Healthplex to ensure the patient was transported to the ER. The next day she promptly contacted the patient as well as the patient's referring physician to follow up with the patient's status.

July 2020
Cynthia Safford, Emergency Department
A patient arrived by ambulance with chest pain. The original EKG did not show signs of a heart attack. As the patient was here for workup and evaluation, Cynthia, our unit clerk, noticed a rhythm change on the monitor. She obtained an EKG and gave it to the physician. It was determined that the patient was having a heart attack. The patient was taken to cath lab for intervention and treatment. Cynthia saved his life!
August 2020
Cassie Stegeman, ICU
ICU had a COVID positive patient who was not doing well. The patient had been in a nursing home for months and her family had not been able to visit her. Two of her sons were able to visit her in the ICU, but due to COVID visitor restrictions, they could not be in her room. Cassie arranged FaceTime visits with the patient's other children so that they could say their goodbyes. She also helped the sons FaceTime with her from the other side of the glass so that they could speak with their mother more clearly. The patient was Catholic, and while we could not get a priest in for last rites, Cassie prayed with the patient and put hymns on in her room. She asked that the hospital chaplain call into her room to pray, and placed the call on speakerphone for the family to participate outside the room. Cassie stayed with this patient for hours, in full PPE, to make sure the patient was not alone. She stayed with the patient until she passed and offered great comfort to the mourning family. Her care and compassion were incredibly touching to watch.
September 2020
Courtney Pfahl, Education
Courtney facilitated a family visit for a husband and wife both admitted to the hospital but unable to see one another due to visiting policy in the ICU. The wife was critical and may not have made it through this admission. The husband was being discharged. They were married for 55 years and unable to see one another. Courtney ensured that all precautions were followed and facilitated this visit that could have been their last. With COVID, families, especially the elderly, have suffered from social isolation. This is just another example of why Courtney is amazing and takes care of the whole patient.
October 2020
Brandi Schwab, ICU
Brandi was the final nurse to care for Keith at CRMC. I'm certain she was fully aware he was nearing the end of life due to COVID-19 when her shift started. Once we decided, as a family, to initiate comfort measures only, we knew his time was short. When we talked to Brandi about this, she explained the process in detail, answering all our questions. She also assured us she would stay with him the entire time. This was especially comforting since we, of course, could not be there to hold his hand. Once it was over, she called back to give us a report & reassure us that she was with him, told him his family loved him, & that he passed peacefully. The emotion in her voice over this was undeniable. I don't envy her dual role of a nurse, as well as a "stand-in family", but she did both gracefully. During this time of increased stress on all healthcare workers, Brandi showed compassion & care that will never be forgotten.
November 2020
Rhonda Irey, PCU
Rhonda has been a savior in many different circumstances. I know these times are hard and we are all exhausted with the difficult situations that are occurring. I have watched, on multiple accounts, our floor being short-handed. This has become the new reality lately and it has been extremely stressful. In multiple cases, Rhonda has been charge of our 29-bed unit, which is almost always full, and has still gone above and beyond to help everyone on the floor. I have watched her take an entire team on top of being in charge when our fellow co-works have fallen ill. I have watched her drop everything she was doing when someone has an "uneasy" feeling about a patient, just to make sure the staff member was comfortable. I have watched her volunteer to float to the COVID unit to make sure our higher-risk staff are safe. I have also watched Rhonda hold the hand of a dying patient while their family couldn't be there and remained with them physically, emotionally, and spiritually throughout their dying process. Rhonda is a huge team player but is also a team leader. These times are hard for the entire hospital, but somehow she still makes the team feel like it's all going to be okay. I can't tell you how many times we have heard, "we will get through it." I know everyone benefits from this positivity when it feels like the world is crashing down, and it makes us want to be better. Better. Every day. I want to thank Rhonda for going above and beyond for our patients and all of her co-workers. I don't think you hear enough how awesome and what a great benefit to this organization that you are. We appreciate everything you do. You are a STAR.
December 2020
Lea Pankratz, ICU
I witnessed compassion and humanity at its finest. A patient was hospitalized in the ICU with COVID-19 and other complicating issues. Despite our best efforts, the patient's condition continued to decline precipitously. After discussing the case with a specialist, colleagues and the family it was decided to modify our strategy to comfort measures. After implementing comfort measures, nurse Lea sat at the patient's side and rubbed his shoulder, rubbed his head and talked to him until he died 30 minutes later. She never left his side nor averted her attention from him. Come to find out she does this with every patient placed on comfort measures. When asked why she provides that level of comfort, she simply says, "because that I is how I would want to be treated." I was further impressed to find out that she does not seek accolades nor boast/brag about what she does. I just happened to be in the right place at the right time to witness this inspiring event. If I were ever a patient or loved one of a patient in that type of situation, I pray that she would be my nurse. Her continued and consistent selfless acts are a credit to the nursing profession and CRMC. She deserves recognition and commendation for a job well done.
January 2019
Tammy Massman, LCSW, Case Management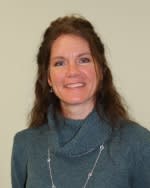 I'm a patient at Goldschmidt Cancer Center and I've had two major surgeries where they removed my voice box and tongue and had a trach put in. I can only eat from a feeding tube and have prostate cancer. I was in a dark place! I had to have radiation treatments every day for over a month and also had appointments at MU every now and then. My car broke down so I had to find a way to and from my appointments. I heard about a medical transportation company, but had to call them every time to schedule rides and often had to wait long hours for a ride home. It caused me overwhelming stress! Then, I was told about Tammy Massman, the social worker at Goldschmidt. Contacting her turned out to be the best decision I've ever made. I told her about my problems and from that point on, she just took over. Tammy was a beacon of light for me. She arranged all of my rides and worked with the radiation team so that my treatments and appointments with Dr. Schwartz were seamless. She even did the same with my appointments at MU. Tammy also helped me in understanding my bills and ended up saving me hundreds of dollars! Thank you, Tammy, for going above and beyond!
February 2019
Suzy Crowley, Rehab Nursing Supervisor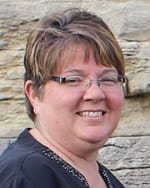 I had the misfortune of locking my keys in my car while it was still running. It was a very cold, snowy day. Suzy ended up being my saving grace as I was having trouble getting roadside assistance to help me since my purse and glasses were locked in the car. Suzy was able to read the VIN on my windshield and offered a credit card number so I could get some help! She kept me warm in her car while we waited. She truly is a leader in making sure her team members are taken care of before she leaves! Thank you!
March 2019
Charlie Jones, Capital Care Pharmacy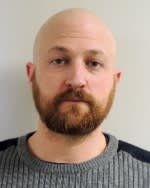 Last week one of the volunteers working in the coffee shop suddenly became sick to her stomach. Charlie saw her distress and checked on her. Over the volunteer's objections, he insisted that she go to the Emergency Department. The ED diagnosed her with a heart attack. She had cardiac cath the next day. If Charlie hadn't stopped to check on her, she would have gone home, and the outcome would have been much, much worse. Charlie went above and beyond to check on her, saw that something was wrong and acted quickly. I'm sure her family would love to thank him too!
April 2019
Kym Brunnert, Goldschmidt Cancer Center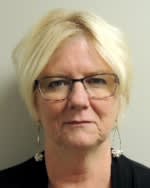 - Making sure employees get to participate in fun employee engagement activities, even when they are busy caring for patients, by taking meal orders and delivering them to co-workers. She has done this on multiple occasions when a food vendor was arranged to be present, but staff was unable to take the time to leave their work stations.
- Cleaning up a large spill in the stairway and staying until the area was safe from potential falls.
- Staying past regular hours to acquire the necessary pre-certification for urgent radiology orders so that the patients can be cared for.
Kym is always willing to go the extra mile. She is so dedicated to others. She will always help anyone and follow through to completion, smiling and laughing through it all.
May 2019
Cole Darnel, Outpatient Physical Therapy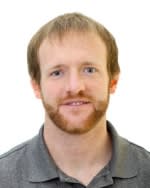 Once again, Cole Darnel has gone above and beyond for one of his patients. His patient was currently using a four-wheeled walker to ambulate, which had become unsafe for her. Cole worked tirelessly to call her physician and get an order for a new walker. He then contacted several companies to obtain a new walker for the patient and complete all of the necessary paperwork for insurance. He helped the patient every step of the way until she received her new walker. The patient's safety and quality of life will now be greatly improved because of Cole's efforts on her behalf.
June 2019
Debbie Ousley, Infusion

Debbie is an amazing coworker and nurse. She goes above and beyond to help not only her fellow nurses but her patients as well. Just one example of this: A patient was embarrassed by the two drains he had in his liver. He would hide them bundled up in his shirt as he walked because he didn't want anyone to see them. Debbie took a cut off leg of a pair of blue jeans and made him a little bag to put them in with a Velcro handle so he can hook it to his belt loop. It blended in with his jeans and allowed him to keep his hands free. The patient was so thankful. Debbie does things like this all the time for her patients. She is truly an inspiration to us all.
July 2019
Courtney Barker, Pharmacy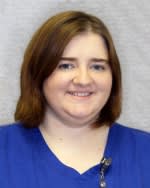 Courtney recently transferred from the switchboard to the pharmacy department, and had been in the Pharmacy for less than three weeks when the tornado struck Jefferson City.
On the evening of the storm, Courtney was at home with her family. Around midnight, after she heard the second tornado siren, Courtney became concerned that the switchboard may need help. She tried calling the hospital to check on the staff, but wasn't able to reach anyone. Without hesitation, she jumped in her car and made her way to the hospital to check on the switchboard crew. She traveled as far as Jefferson City High School, but road blocks were already in place. Courtney didn't let that stop her. She parked her car and walked the rest of the way to the hospital!
When she arrived at the switchboard, the team was fielding an extremely high volume of calls and trying to hand out radios to the necessary employees. Courtney handed out the radios and then signed on to a work station and started taking calls. Without her help, there would have been much more congestion with the calls in the switchboard. It would have been very difficult to make or receive calls. Courtney provided invaluable assistance during a critical time of disaster, when she was neither called upon nor had a reporting responsibility to that department.
The switchboard was very grateful for her help and concern! Pharmacy is proud to have a team member with such great integrity & servant heart.
August 2019
Diane Decker, Capital Region Physicians - Owensville

A patient called for a same-day appointment and Diane noted that she had slurred speech. An appointment was given to the patient but after ending the phone call Diane contacted the patient's daughter about the situation. The daughter checked on her mother, 911 was contacted and she was transported to the emergency department at CRMC via ambulance. It was determined the patient had suffered a stroke and was given the clot busting treatment in the emergency room. When the patient followed up in the clinic setting several days later, she said Diane saved her life.
September 2019
Sally Moore, Business Development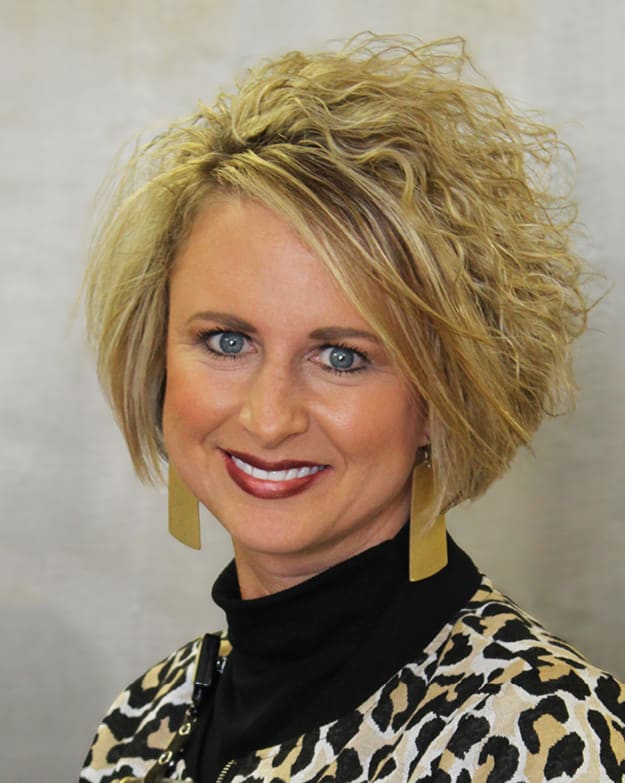 A patient on the Med/Surg unit had a bilateral mastectomy and was given a lymphedema wrap order. The patient was very anxious about having the wrap placed promptly. The lymphedema specialist was not working that day and after multiple calls, a specialist could not be found. A physical therapy staff member suggested that we call Sally Moore. Sally had experience working with Lymphedema patients and had the needed certification. We called Sally, and she did not hesitate to say yes. She was originally leaving the hospital early to spend time with her children. She put her family on hold and went to patient's room to help. The patient informed her that she has a sleeve and a glove at home and had sent her husband to get the supplies. Sally returned to the floor later and helped the patient put the wrap and the glove on properly. We really appreciate her putting this patient first. Thank you Sally!
October 2019
Lynne White, Inpatient Occupational Therapy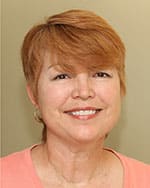 One day, when leaving work, Lynne noticed a young mother walking along the parking lot, struggling to manage her two-year-old son and carry an infant carrier. It was a hot, ninety degree day and to top it off, the toddler was crying. Instinctively, Lynne offered the young lady a ride to her home. Lynne helped carry the toddler to the car while the mother managed the infant carrier. The mother was very grateful for the ride and told Lynne that she had just come from the doctor's office as her baby had a double ear infection.
Lynne is very deserving of this award as she demonstrated CRMC's mission, vision and values in her care of this young mother and her children. Thank you, Lynne, for being awesome!
November 2019
Raquel Ferro, Inpatient Rehabilitation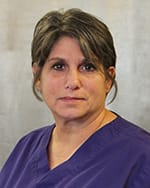 Raquel goes way above and beyond her job description by doing extraordinary things for her patients. For example, a rehab patient's granddaughter was getting married but the patient was going to have to miss the wedding. So, Raquel got approval to go along with the patient and his wife to the wedding. The patient was able to be present in the family pictures and the bride was thrilled!
Another example is when Raquel found out a rehab patient was craving a McDonald's double cheeseburger and a Mountain Dew, she brought the burger and drink to the patient after work. Thank you Raquel for all that you do!
December 2019
Artina Kaver - Admissions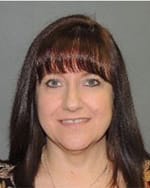 I've been a patient at CRMC for many years and I am way too late in turning this employee in for a star. [Artina] is always very efficient, knows her job well and does it quickly, with the best, biggest smile, while being so kind and courteous as well. I mentioned to her one day about not being able to find an empty parking space, and she gave me the suggestion of where else I might try next time. She was so nice, she listened, and I feel she understood her patient's dilemma and followed up with a possible solution. I am extremely grateful for your employee, Artina. She is a high caliber employee and a special person to all of us who come here. She is a true star and bright light at CRMC and deserves to be recognized!
January 2018
Jo Ann Cantriel, Education

During a very busy point, our overflow unit was opened, and Jo Ann came and helped open and work the unit. She admitted one particular patient that was very sick and actually knew Jo Ann Cantriel and her family. By the next morning, we were able to downsize and I assumed the care of this particular patient. Upon entering the room, I saw that the patient was crying. The patient shared her concerns with me, which included a call that her electricity was going to be shut off and the family member that was helping with the care of her three young children was no longer able to help. The patient had recently started a new job and had been working a lot of overtime, but her acute illness landed her in the hospital. I asked the patient if I could share her concerns to see if there was any help available for her and she said "yes". Knowing that Jo Ann knew her, I confided in her. Jo Ann said, "I am on it", and immediately made a couple of phone calls. The childcare was taken care of and the electricity was covered within a matter of minutes. This information was shared with the patient and she cried tears of joy. Then she was able to just concentrate on her own personal health. Jo Ann is a "super star" for taking prompt action of the personal concerns of a patient in need. The patient shared that she loved Capital Region Medical Center and would never go anywhere else. We truly are a family that provides "holistic" care in a lot of cases. Jo Ann, you are a "hero" and you deserve to be recognized.
February 2018
Tammy Kanatzar, Chaplain

Tammy Kanatzar always goes above and beyond to help. I was transporting an elderly patient who complained that his head was particularly cold. Knowing that we often kept stocking caps on hand for cancer patients, I asked Tammy if she had any. Unfortunately, Tammy only had infant caps at the time, but told me she would get adult hats to keep on hand in case of a similar situation in the future. However, Tammy did not stop there. She purchased the gentleman a hat and gloves for which he was extremely grateful and happy. This was just one example of the continuously selfless acts that she does every day.




March 2018
Jessica Koestner, Pediatric Therapy

Jessica holds the social skills group my son attends. She makes it enjoyable for all the kids regardless of their abilities. Her up-beat personality makes it less like a counseling session and more of a gathering of friends. She also gives her time on Saturday, once a month to make sure the group can have a fun outing while also interacting in the community. Jessica recently started a pen pal project to encourage the kids to be social outside of group gatherings. After every meeting she always makes time for me to ask questions and get an update on my son. Jessica always makes sure to say something positive to him. I feel like she goes above and beyond to make the social group successful and more than just another appointment for these kids (which is important).
April 2018
Kristen Pringer, Med/Surg Unit

Kristen is a great role model for all new nurses. She is extremely knowledgeable and helpful to us all. She never hesitates to answer call lights when she is on the unit. She always helps with IV stats as asked. Besides doing all that is required as a manager, she is always giving good advice and truly cares about the patients and staff. Kristen has also been paying for a patients meds and needed medical equipment. She is excellent at communication with her staff, keeping us well informed of new changes. We appreciate all she does.
May 2018
Mary Kremer, Environmental Services

One day during her shift, Mary noticed a young woman that had been dropped off at Capital Region by mistake. This person's ride had left her and returned to Columbia. The woman had no money or method to get to St. Mary's, her desired destination. Mary noticed how upset the woman was and paid for a taxi fare out of her own pocket. This was an act of humanity that deserves to be noticed.





June 2018
Jane DeVign, 3rd Floor Clinic Administration

Jane is the most caring, compassionate health care worker I have ever encountered. I was facing a very frightening diagnosis and Jane helped me set up ultrasounds and biopsies that were needed. I am now recovering from surgery, but I would not be this far along with my piece of mind if it weren't for Jane. She is a most blessed and valuable member of your staff. God Bless you Jane. Thank you!




July 2018
Nichole Kempker, Emergency Department

On the afternoon of June 10, the Emergency Department had multiple ambulances bringing patients and many walk-in patients. After Nichole's shift ended, she volunteered to stay a couple more hours to assist with triage, treatment and care of the patients flooding into the ED. Nichole exemplifies nursing at its finest and exhibited the type of teamwork that every healthcare professional wants in their environment.




August 2018
Janette Holt, Retail Pharmacy

I left my children's nebulizer at the Capital Care Pharmacy. Janette called me to say she would gladly meet me after work to deliver it to me. She went out of her way and I am so thankful. My boys needed the nebulizer that night and because of her, they got their needs met. Thank you Janette, for being such a caring person.





September 2018
Cole Darnel, Outpatient Physical Therapy

I have had the chance to observe Cole with a few patients lately. It is clear he goes above and beyond to make sure his patients are well taken care of. Often Cole stays late with patients if they are requiring extra care. Many times, this causes him to lose lunch, paperwork time, or has him leaving the clinic later. Cole never complains about any of this and it is easy to see his heart when you watch him work with his patients and when you hear his patients talk about him. I even get the benefit of all of the cookies and snacks they bring to thank him for his care! I feel Cole is a great representative of what CRMC is striving for with patient care and satisfaction. I am lucky to get to work with him and learn from him daily. Thank you Cole!
October 2018
Tanya Rollins, Intensive Care Unit

Tanya is someone we can count on, even on PCU. One night my patient lost IV access, and after many tries, an ultrasound IV was needed. Tanya spent an hour in the patient's room trying to obtain access. She did not give up even though it wasn't her patient or her unit. She also kept the patient as comfortable as possible through the process. Tanya spent all this time with my patient even though her unit was busy and preparing for the arrival of a critical patient.
We on PCU are also happy to see Tanya during Rapid Responses because she always knows what to do. She makes a bad situation better. I am never disappointed when having to float to ICU when I know Tanya is there. She is a great person to have on our team. I am comforted just knowing she is in the hospital to respond when needed.
November 2018
Tammy Kanatzar, Chaplain

When a younger patient passed away in the intensive care unit, Chaplain Tammy was, as always right there. The patients two young sons came to visit their father after his passing to say their good-byes. After touching and talking to the father, one son stated that "We need to call Jesus and tell him dad is coming". Tammy didn't think twice, she took the boy directly to a phone. Accidentally, he dialed into the overhead speakers and said "Hello?". Everyone in the hospital heard the child's greeting and giggled, but what they didn't hear was the conversation that Chaplain Tammy facilitated to allow the son to call Jesus and tell him that this father was coming home to heaven. What Chaplain Tammy did for that boy provided him the closure and peace he will hold onto for a lifetime and helped our grieving staff heal a little bit, too. Chaplain Tammy is a true blessing to us all.


December 2018
Lauren Kaiser-Johnson, Outpatient Therapy Clinic

Lauren goes above and beyond her job duties to ensure that patients not only have an excellent physical therapy experience, but that their lives are enriched as well. On one occasion, Lauren was providing therapy to a deaf patient for a total knee replacement. The patient was having difficulties communicating with his other medical providers, and Lauren took it upon herself to be the liaison between them so that everyone understood the patient's medical status to ensure the best outcome. While on vacation, the patient had a serious change in his medical status causing a foot drop on the surgery leg. The patient contacted Lauren and she was able to communicate the problems to the physician and get the treatment he needed.
Lauren also had a wheelchair bound patient with significant disabilities that was raising her five-year-old daughter. The patient was on the verge of losing her housing and had nowhere to go. Lauren researched possible housing options for the patient and helped her secure a new place to live. Lauren also helped this patient get the needed repairs to her wheelchair when the patient was having trouble contacting the company because she did not have a cell phone.
Lauren is the perfect example of an employee that exceeds all expectations in her job and with patient care. I can't think of anyone more deserving of this honor.