COVID-19 Situational Update - December 17, 2020
Thursday, December 17, 2020
The days are drawing nearer to the Christmas holiday and Capital Region Medical Center wants to take this opportunity to remind our community to stay vigilant to slow the spread of COVID-19.
The medical community is making incredible strides in the fight against COVID-19. We have an approved vaccine which is currently being given to select high risk groups. However, we still need to adhere to COVID-19 guidelines to reduce the spread of transmission and protect ourselves and our neighbors.
"The trends we are seeing since the Thanksgiving holiday related to COVID-19 have been very positive," says Dr. Randy Haight, VP of Medical Affairs at CRMC. "Hopefully this trend is the result of responsible decisions over Thanksgiving such as wearing masks, and the avoidance of large indoor gatherings and communal events. It is our hope to the same level of responsibility over the Christmas and New Year's celebrations as well."
The graph below illustrates the positive trend for COVID-19 hospitalizations: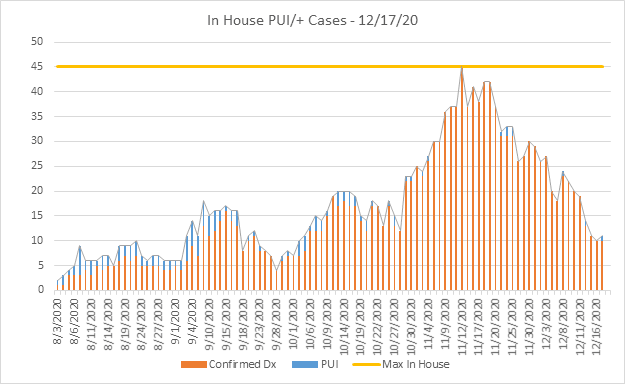 PUI - Person Under Investigation meaning results of a COVID-19 test are pending
Weekly COVID-19 Positivity Rate: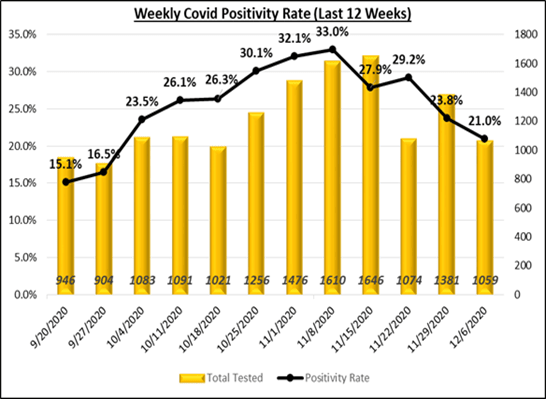 Although a vaccine is here and more vaccines are expected to be approved in the coming weeks, it is too soon to let our guard down.
Jefferson City Mayor, Carrie Tergin, has issued an advisory for the community to adopt behaviors to slow the spread of infection. Capital Region Medical Center is fully in support of the advisory and recommends everyone continue taking necessary precautions to protect themselves and their loved ones.
Wear a mask when in public when social distancing is not possible.
Maintain social distance of at least 6 feet wherever possible, and limit close contacts with other individuals to less than 15 minutes.
Wash your hands frequently
Stay home when you are sick or if you have symptoms. Self-isolate from other family members
As much as possible, limit your regular interactions to a small group (<10) of family members, friends, and/or co-workers
The complete advisory can be found on the City of Jefferson Website.
"We believe we are beginning to see a glimmer of light at the end of the COVID-19 tunnel," Haight says. "But we cannot let our guard down. Please continue to make good decisions help our community stay healthy. Your actions can help save lives!"