COVID-19 Situational Update - November 10, 2020
Hospital news
|
Tuesday, November 10, 2020
Heading into the ninth and by far most dire month of the COVID-19 pandemic, we urge our communities to take this situation seriously, especially as the holidays approach.
Since March, CRMC has conducted more than 22,000 COVID-19 tests. Over the past several months our positivity rate has steadily increased, which CRMC tracks weekly. The increase is illustrated in the graph below: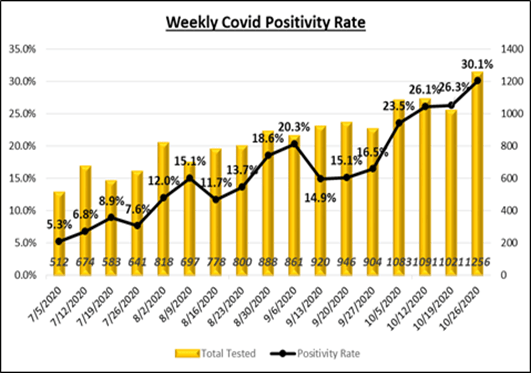 Our incident command teams have moved entire units to accommodate the growing number of COVID-19 patients who require hospitalization. We have established two dedicated COVID-19 units in addition to designating rooms on our progressive care unit and ICU rooms for the most critical patients.
CRMC leadership meets every week day to assess the situation and make adjustments as needed. Teams report the number of ventilators, bipaps and vapotherms that are in use and the census in the COVID-19 units, PCU, ICU and OB. We monitor our supply levels for personal protective equipment, blood supply and key medication inventory.
The graph below shows the growing volume of COVID-19 patients admitted to CRMC from the beginning of August to November 6, 2020.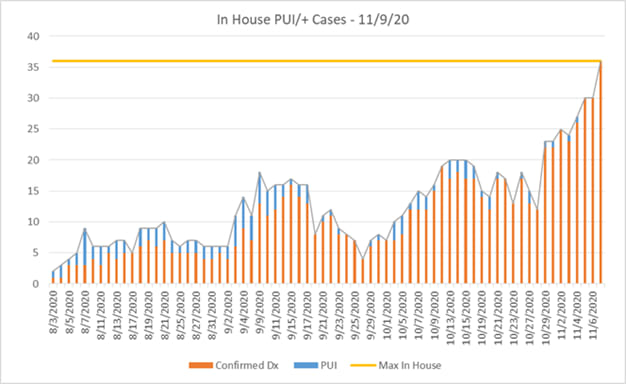 As you can see, we have more COVID patients to care for while also working hard to keep our staff healthy. In the midst of this crisis, we are also faced with staffing shortages like most health care systems across the country.
As the pandemic continues to spread throughout our communities, CRMC will evaluate the need to decrease elective procedures and revert to a more restrictive visitation policy.
The holidays are quickly approaching and we implore you to consider keeping holiday gathering small and ideally to include only immediate family members. This is hard and not how we are used to celebrating but the sacrifice may save lives – maybe the life of someone you love.
Please help slow the spread of COVID-19.
Wear a mask or face covering when in indoors and around people you do not live with
Physically distance from others. (Stay 6 feet apart)
Avoid large crowds, especially indoors where masks are not being worn.
Wash your hands often
Disinfect frequently touched surfaces.
If you have been exposed (close contact for 15 minutes or more cumulative over 24 hours) to someone who is known positive please quarantine for the required 14 days. If you test positive, asymptomatic or not, and not designated as an essential employee, please stay away from others for 10 days from the onset of symptoms and fever free for 24 hours without the use of medication.
Quarantining while sick is a valuable tool in slowing the spread of COVID-19.
For the health and safety of everyone in our communities, please think of others and do your part to slow the spread.