COVID-19 VACCINE INFORMATION
COVID-19 Vaccinations are available to anyone 12 years and older at the Capital Care Pharmacies in Jefferson City and Versailles. Pfizer and Johnson and Johnson vaccines are available.
Capital Care Pharmacy - Jefferson City
Located on the second floor of the physicians office building, 1125 Madison Street.
By appointment only.
Capital Care Pharmacy - Versailles
901 Kidwell Drive
Vaccination hours are from 8:00 am - 5:00 pm, Monday - Friday
Walk-ins are welcome.
Capital Region Medical Center is working closely with local and state public health officials, as well as following guidance from the Centers for Disease Control and Prevention (CDC) to address this public health concern.
If you develop a respiratory illness consistent with COVID-19, please stay home. If you get sick, contact your physician for advice.
Click here to view hospital visitor restrictions due to COVID-19 precautions.
Capital Region is prepared and committed to providing excellent care for all of our patients as our country and our community face the effects of the COVID-19 pandemic. We continue to work diligently and rapidly to implement complex solutions that are vital to the health of our patients, employees and community.
Some of the new practices that we have implemented are:
The ability of our providers to see patients virtually through TeleVisits.
We have committed to practicing social distancing within our organization by hosting virtual meetings wherever possible.
Requiring the masking of all patients, visitors and staff in clinical areas of our facilities (with limited exceptions).
We quickly developed a plan to limit the entrances into our facility and screen all employees, patients and visitors who enter our facilities and have remained agile to amend the plan and improve the process as the need arises.
Amended our visitor policy for the safety of employees, patients and the community.
We've been able to reallocate our staff to other areas where there is greater need.
Added curbside pick-up from our Capital Care Pharmacy.
Made changes to our cafeteria policies to limit self-serve options and the spreading of infection, while still offering a full menu.
Additionally, our infection preventionist and entire team of experts continue to work closely with local and state health agencies to make sure we have the most current information and can follow the best practice guidelines. We continue to stay on top of this situation as it develops and will remain flexible to changes as needs arise.
(click here for full version download)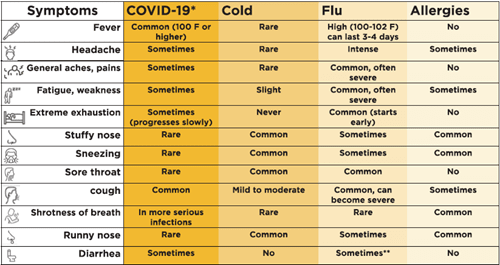 *information still developing **sometimes for children
Patients who are established with a primary care provider should reach out to their provider to receive an order for a COVID-19 Testing.
Patients who need a COVID-19 test and do not have a primary care provider can receive a test at Edgewood Urgent Care.
Manage Anxiety & Stress
Stress and Coping
The outbreak of coronavirus disease 2019 (COVID-19) may be stressful for people. Fear and anxiety about a disease can be overwhelming and cause strong emotions in adults and children. Coping with stress will make you, the people you care about, and your community stronger.
Everyone reacts differently to stressful situations. How you respond to the outbreak can depend on your background, the things that make you different from other people, and the community you live in.
People who may respond more strongly to the stress of a crisis include
Older people and people with chronic diseases who are at higher risk for COVID-19
Children and teens
People who are helping with the response to COVID-19, like doctors and other health care providers, or first responders
People who have mental health conditions including problems with substance use
If you, or someone you care about, are feeling overwhelmed with emotions like sadness, depression, or anxiety, or feel like you want to harm yourself or others call
911
Substance Abuse and Mental Health Services Administration's (SAMHSA's) Disaster Distress Helpline:

1-800-985-5990

or text TalkWithUs to 66746. (TTY 1-800-846-8517)
Stress during an infectious disease outbreak can include
Fear and worry about your own health and the health of your loved ones
Changes in sleep or eating patterns
Difficulty sleeping or concentrating
Worsening of chronic health problems
Increased use of alcohol, tobacco, or other drugs
People with preexisting mental health conditions should continue with their treatment and be aware of new or worsening symptoms.
Taking care of yourself, your friends, and your family can help you cope with stress. Helping others cope with their stress can also make your community stronger.
Things you can do to support yourself
Take breaks from watching, reading, or listening to news stories, including social media. Hearing about the pandemic repeatedly can be upsetting.
Take care of your body. Take deep breaths, stretch, or meditate. Try to eat healthy, well-balanced meals, exercise regularly, get plenty of sleep, and avoid alcohol and drugs.
Make time to unwind. Try to do some other activities you enjoy.
Connect with others. Talk with people you trust about your concerns and how you are feeling.
Call your healthcare provider if stress gets in the way of your daily activities for several days in a row.
Visit our health library for frequently asked questions, basic information and tips to help you through the COVID-19 pandemic.
The cost to be tested is $182. Self pay patients receive a 65% discount.
A COVID-19 vaccine is the best way to protect yourself and others and bolster immunity throughout our community so that we can all get back to 'normal'. To get your vaccine questions answered, click here.
Sources: Centers for Disease Control and Prevention, Missouri Department of Health and Senior Services