COVID-19 VACCINE INFORMATION
Capital Region Physicians – Patient COVID-19 Vaccinations
Patients seeking vaccination should call their primary care provider to be added to the list of patients wanting to receive the vaccine.
Once on the list, the patient will be called and if they meet the criteria, a vaccination time will be scheduled.
If patients do not have a primary care provider they have the option to establish care or to call the Cole County Health Department. Follow the link for a list of providers accepting new patients: https://bit.ly/3szrYVJ
We kindly ask for your patience as we work through this process. We are committed to the health of our community and are working through supply and staffing challenges.
Phase 1 B Tier 2, going live on Monday 1/18 will include a segment of our high risk patient population. This population is defined as follows:

Anyone aged 65 and older
Adults with the following conditions:
Cancer
Chronic kidney disease
COPD (chronic obstructive pulmonary disease)
Intellectual and/or developmental disabilities such as Down syndrome
Heart conditions such as heart failure, CAD (coronary artery disease) or Cardiomyopathies
Immunocompromised state from solid organ transplant
Severe obesity (BMI >40kg/m2)
Pregnancy
Sickle cell disease
Type 2 diabetes mellitus
The 2019 novel coronavirus (known as COVID-19) is a coronavirus identified as the cause of an outbreak of respiratory illness first detected in Wuhan, China, in December 2019.
Capital Region Medical Center is working very closely with local and state public health officials, as well as following guidance from the Centers for Disease Control and Prevention (CDC) to address this public health concern. Additional cases have been identified, in increasing numbers, in each of the United States. For more information about cases in Missouri, visit Missouri Department of Health and Senior Services.
If you develop a respiratory illness consistent with COVID-19, please stay home. If you get sick, contact your physician for advice. If you do not have a primary care provider or are acutely ill, please contact our COVID-19 Respiratory Illness Triage line. This ensures staff are prepared for your arrival and can limit your exposure to others. Click here to view hospital visitor restrictions due to COVID-19 precautions.
The days are drawing nearer to the Christmas holiday and Capital Region Medical Center wants to take this opportunity to remind our community to stay vigilant to slow the spread of COVID-19.
The medical community is making incredible strides in the fight against COVID-19. We have an approved vaccine which is currently being given to select high risk groups. However, we still need to adhere to COVID-19 guidelines to reduce the spread of transmission and protect ourselves and our neighbors.
"The trends we are seeing since the Thanksgiving holiday related to COVID-19 have been very positive," says Dr. Randy Haight, VP of Medical Affairs at CRMC. "Hopefully this trend is the result of responsible decisions over Thanksgiving such as wearing masks, and the avoidance of large indoor gatherings and communal events. It is our hope to the same level of responsibility over the Christmas and New Year's celebrations as well."
The graph below illustrates the positive trend for COVID-19 hospitalizations: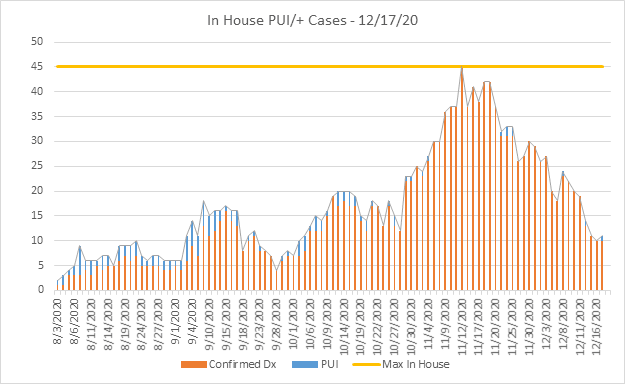 PUI - Person Under Investigation meaning results of a COVID-19 test are pending
Weekly COVID-19 Positivity Rate: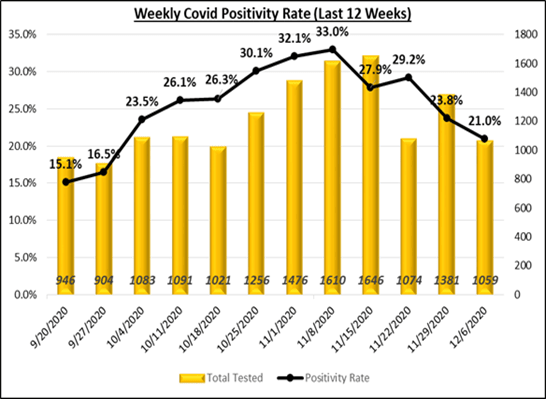 Although a vaccine is here and more vaccines are expected to be approved in the coming weeks, it is too soon to let our guard down.
Jefferson City Mayor, Carrie Tergin, has issued an advisory for the community to adopt behaviors to slow the spread of infection. Capital Region Medical Center is fully in support of the advisory and recommends everyone continue taking necessary precautions to protect themselves and their loved ones.
Wear a mask when in public when social distancing is not possible.
Maintain social distance of at least 6 feet wherever possible, and limit close contacts with other individuals to less than 15 minutes.
Wash your hands frequently
Stay home when you are sick or if you have symptoms. Self-isolate from other family members
As much as possible, limit your regular interactions to a small group (<10) of family members, friends, and/or co-workers
The complete advisory can be found on the City of Jefferson Website.
"We believe we are beginning to see a glimmer of light at the end of the COVID-19 tunnel," Haight says. "But we cannot let our guard down. Please continue to make good decisions help our community stay healthy. Your actions can help save lives!"
Capital Region is prepared and committed to providing excellent care for all of our patients as our country and our community face the effects of the COVID-19 pandemic. We have spent the last few weeks planning and preparing for a surge of patients in our hospital and working diligently and rapidly to implement complex solutions that are vital to the health of our patients, employees and community.
Some of the new practices that we have implemented are:
The opening of a mobile testing site in the parking lot of our Capital Region Physcians - Primary Care Clinic.
The launch of a COVID-19 Respiratory Illness triage line, available to those who think they have symptoms of COVID-19 but do not have a primary care provider. This reduces the number of patients physically presenting in our clinics and therefore reducing the spread of infection.
The ability of our providers to see patients virtually through TeleVisits.
We have committed to practicing social distancing within our organization by hosting virtual meetings wherever possible.
Requiring the masking of all patients, visitors and staff in clinical areas of our facilities (with limited exceptions).
We quickly developed a plan to limit the entrances into our facility and screen all employees, patients and visitors who enter our facilities and have remained agile to amend the plan and improve the process as the need arises.
Amended our visitor policy for the safety of employees, patients and the community.
We've been able to reallocate our staff to other areas where there is greater need.
Added curbside pick-up from our Capital Care Pharmacy.
Conserving supplies, such as face masks and personal protective equipment, by cancelling elective procedures, working with supply vendors, community members and monitoring supply use across our organization.
Made changes to our cafe policies to limit self-serve options and the spreading of infection, while still offering a full menu.
Additionally, our infection preventionist and entire team of experts continue to work closely with local and state health agencies to make sure we have the most current information and can follow the best practice guidelines. We continue to stay on top of this situation as it develops and will remain flexible to changes as needs arise.
(click here for full version download)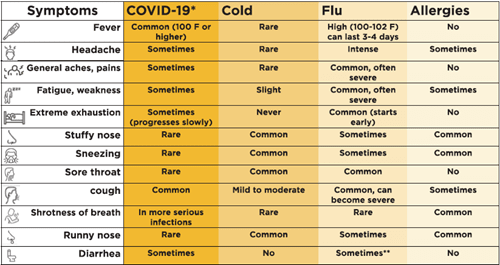 *information still developing **sometimes for children
If you are experiencing the following symptoms and/or been in close contact with a person known to have COVID-19, please call your primary care physician. If you do not have a primary care physician, please call the COVID-19 Respiratory Illness Triage Line at 833.763.0444. The line is open Monday through Friday 8 a.m. – 4 p.m., Saturday 9 a.m. – 1 p.m. and Closed Sunday.
Fever
Cough
Shortness of breath
CRMC's drive-through COVID-19 testing site is currently closed.
Patients with Capital Region Physicians (CRP) can contact their provider to see if they are able to receive a test in clinic. Patients not currently in the CRP network can establish care with a CRP provider or visit Capital Region Physicians – Edgewood urgent care if they have symptoms consistent with COVID-19.
Manage Anxiety & Stress
Stress and Coping
The outbreak of coronavirus disease 2019 (COVID-19) may be stressful for people. Fear and anxiety about a disease can be overwhelming and cause strong emotions in adults and children. Coping with stress will make you, the people you care about, and your community stronger.
Everyone reacts differently to stressful situations. How you respond to the outbreak can depend on your background, the things that make you different from other people, and the community you live in.
People who may respond more strongly to the stress of a crisis include
Older people and people with chronic diseases who are at higher risk for COVID-19
Children and teens
People who are helping with the response to COVID-19, like doctors and other health care providers, or first responders
People who have mental health conditions including problems with substance use
If you, or someone you care about, are feeling overwhelmed with emotions like sadness, depression, or anxiety, or feel like you want to harm yourself or others call
911
Substance Abuse and Mental Health Services Administration's (SAMHSA's) Disaster Distress Helpline:

1-800-985-5990

or text TalkWithUs to 66746. (TTY 1-800-846-8517)
Stress during an infectious disease outbreak can include
Fear and worry about your own health and the health of your loved ones
Changes in sleep or eating patterns
Difficulty sleeping or concentrating
Worsening of chronic health problems
Increased use of alcohol, tobacco, or other drugs
People with preexisting mental health conditions should continue with their treatment and be aware of new or worsening symptoms.
Taking care of yourself, your friends, and your family can help you cope with stress. Helping others cope with their stress can also make your community stronger.
Things you can do to support yourself
Take breaks from watching, reading, or listening to news stories, including social media. Hearing about the pandemic repeatedly can be upsetting.
Take care of your body. Take deep breaths, stretch, or meditate. Try to eat healthy, well-balanced meals, exercise regularly, get plenty of sleep, and avoid alcohol and drugs.
Make time to unwind. Try to do some other activities you enjoy.
Connect with others. Talk with people you trust about your concerns and how you are feeling.
Call your healthcare provider if stress gets in the way of your daily activities for several days in a row.
Visit our health library for frequently asked questions, basic information and tips to help you through the COVID-19 pandemic.
The cost to be tested is $182. Self pay patients receive a 65% discount.
A covid-19 vaccine is the best way to protect yourself and others and bolster immunity throughout our community so that we can all get back to 'normal'. To get your vaccine questions answered, click here.
Sources: Centers for Disease Control and Prevention, Missouri Department of Health and Senior Services