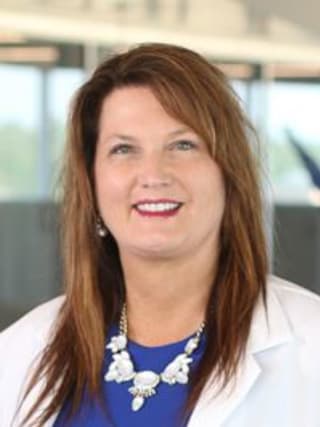 Teri Deffenbaugh, DO
Gynecology Gynecology, Women's Health, Fertility, Robotic Surgery, Gynecological Surgery
Accepting new patients
Organization
Capital Region Physicians - Obstetrics & Gynecology
Facilities
Capital Region Physicians - Obstetrics and Gynecology
Groups
Capital Region Physicians Group
Status
Active
Medical school
Kirksville College of Osteopathic Medicine
Residency
Dallas-Fort Worth Medical Center
Medical group memberships

American Osteopathic Association
American College of Osteopathic Obstetricians and Gynecologists

Special practice interests

Even though I gave up obstetrics, I still continue to enjoy working with infertile couples and determining fertility treatments to help them conceive. This includes ovulation induction with oral agents, diagnosing tubal occlusions through laparoscopy or a radiographic dye test called hysterosalpingogram, and treatment of endometriosis.

Since I no longer to obstetrics, I'm able to devote my time for advanced laparoscopy and laparoscopic techniques such as utilizing the da Vinci robot. I'm the first gynecologist in Jefferson City who is certified in offering these techniques to the women of the Jefferson City area. I also offer advanced hysteroscopy, which includes removal of fibroids and polyps, as well as resection of symptoms that can cause infertility and abnormal fibroids.

Assessment of the treatment of incontinence is also another special interest of mine. I've been doing this since I started a private practice in 1995. I have kept up-to-date with current treatments, and we offer urodynamics in the office, as well as minimally invasive therapy for stress incontinence. With our certified pelvic floor therapist, we also can offer the most current treatments for urgency and nonsurgical therapies for leakage.

For the last two years, we have offered a hormonal replacement philosophy utilizing Bio-Te pellets. We still offer traditional therapies, but for those people that traditional therapies are not the answer, we offer a broader scope of hormonal therapy.

Board certification

American Osteopathic Board of Obstetrics and Gynecology
Biography
Dr. Deffenbaugh and husband, Kelly, have three children. Their daughter, Victoria, is studying animal sciences in the University of Missouri, and her two sons, Kingston and Keaton, attend St. Peter Interparish School. The boys are active in 4-H and enjoy helping Kelly on the farm. The Deffenbaugh's have row crops and a cow/calf operations.
"I am passionate about the youth today. Because our family is deeply entrenched in agriculture, we spend a lot of time and effort with 4-H as well as FFA in our community. I donate a week of time every year to the Jaycee Cole County Fair, utilizing technology to assist in the market shows and the auctions. I think after all the hard work the children have done getting their animals ready for that show, it is a special thing to see their name up on the big screen TVs in the arena. I know the families enjoy it as well."
Dr. Deffenbaugh is a retired U.S. Army Reserve Colonel. She served in the Missouri Army National Guard for twenty years, which included two tours of duty.
Top