Capital Region Administration
Gaspare Calvaruso was appointed President of Capital Region Medical Center in September of 2014. Calvaruso has a strong healthcare background. He held several executive positions for SSM Health Care in St. Louis. Most recently Calvaruso was responsible for three facilities: St. Joseph Health Center, St. Charles and Wentzville, and St. Joseph Medical Park in St. Peters. He also served in dual roles as president and service line executive for SSM Cancer Care.
Prior to his role at SSM, he served as Vice President, medical staff services at Memorial Hospital in Belleville, Illinois, where he led physician recruitment and marketing for the Memorial Group and related corporations. Before that, he served in various leadership positions at St. Mary's Good Samaritan in Mount Vernon, Illinois; St. Mary's Health Center in Jefferson City; and St. Joseph Health Center and St. Joseph Hospital West, outside St. Louis.
He is a graduate of the University of Missouri—St. Louis and earned a master's degree in business administration from William Woods University in Fulton.
Tom Luebbering joined Capital Region Medical Center in 2012 and is responsible for financial services.
Luebbering received a bachelor of science degree in accounting from Lincoln University and a master of business administration from William Woods College. Luebbering has worked in the healthcare industry since 1987, previously as chief financial officer at Northeast Regional Medical Center in Kirksville, Missouri.
Born in Westphalia, Missouri, Luebbering is a graduate of Fatima High School and is a lifelong member of St. Joseph Roman Catholic Church and a Member of Knights of Columbia (Westphalia Council 1171).
Luebbering and wife, Lori, have two sons and enjoy family hobbies of camping, fishing, hunting and golf.
Sarah Morrow, JD, SPHR, joined Capital Region Medical Center in January 2016 as Vice President of Human Resources. With over 10 years of experience as a human resources executive, Morrow brings a visionary, strategic and collaborative HR leadership to Capital Region. Prior to joining the organization, Morrow served as director of human resources for Missouri Farm Bureau.
Morrow received her bachelor of science from Iowa State University and her juris doctor from Drake University. She is a member of the Missouri Bar Association and the Society of Human Resource Management. Morrow has received her Senior Professional in Human Resource (SPHR) certification and is a 2006 Missouri Quality Award Examiner.
Originally from South Dakota, Morrow and her husband, Craig, moved to mid-Missouri after law school. They currently live in Jefferson City raising their two sons.
Belynda Imhoff, RN, BSN, MS currently serves as Vice President of Information Technology.
Belynda has served Capital Region for more than seventeen years, beginning as a registered nurse in the Obstetrics department. Since 2009 she has worked on the information technologies side of health care serving as a clinical analyst, and most recently, as the Director of Health Informatics.
In 2005, Belynda earned her Master of Science in Health Informatics from University of Missouri - Columbia. She also participates in networking groups at the state and national levels to provide customer representation in development of information exchange between disparate electronic health records and public health reporting in accordance with the federal Government's Interoperability plan.
As VP of Medical Affairs, Dr. Haight serves as a champion for improving healthcare. Dr. Haight's excellent communication skills and leadership experience are essential to creating a culture of collaboration and cohesiveness between Capital Region, local physicians and other medical establishments in mid-Missouri.
Dr. Haight is an internal medicine specialist at Capital Region Physicians - Internal Medicine. In this role, he has served mid-Missourians for more than 25 years. An advocate for patient's rights, Dr. Haight provides exceptional care to patients across generations. Well-respected by his peers, his strong belief in patient safety processes and progress along with his effective communication abilities make him a vital asset to Capital Region.
Dr. Haight received his medical degree from the University of Iowa in Iowa City, Iowa, and completed his residency at M.S. Hershey Medical Center in Hershey, Pennsylvania. He is board-certified in internal medicine by the American Board of Internal Medicine and is a Fellow of the American College of Physicians. He received a Master of Business Administration from the Isenberg School of Management – Umass Amherst.
In 2020, Dr. Haight was named in Becker's Hospital Review as one of 100 chief medical officers to know.
In her role as the VP of Capital Region Physicians, Dr. Barg is both the clinical and operational leader of the medical group. She works closely with her operations team to manage all aspects of the business function. Dr. Barg is responsible for oversight of all quality aspects of services offered in the clinics. Her expertise as a physician, along with her passion for improving the lives of our patients and the community through safe, efficient and effective care, make her a valuable asset both in this position and to the organization at large.
Dr. Barg earned her Doctor of Medicine degree at the University of Michigan Medical School and completed her residency at Southern Illinois University. She is board-certified by the American Board of Family Medicine.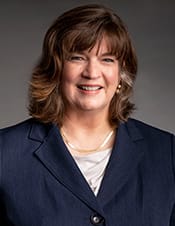 Having received her Doctor of Nursing with an emphasis on executive leadership, Janet brings vast experience to CRMC. She came to us from Allina Health United Hospital in St. Paul, MN where she served as VP of patient care and CNO from 2018 to 2021. Prior to that she served as the VP of nursing and CNO for SSM Health St. Joseph's Hospital Lake St. Louis for eight years. All-in-all, Janet has worked in health care for more than 30 years.
Capital Region Board of Directors
2022 - 2023
Carlos Graham, Chair, Dir Campus & Community Relations, Lincoln University
Philip Burger, Vice Chair, Vice President, Burger's Smokehouse
David Minton, Treasurer, President/CEO Central Bank
Kristina Naught, Secretary, General Counsel, Missouri Department of Agriculture
Frank Burkhead, CPA, Owner of Burkhead & Associates, LLC
Nim Chinniah, Vice Chancellor for Health Affairs, University of Missouri Health Care
Marc Ellinger, Chair, Ellinger and Associates, LLC
Katrina Lambrecht, JD, MBA, Chief Operating Officer, University of Missouri Health Care
Diane Light, D.O., Capital Region Physicians- General Surgery
Jeffrey Sanders, M.D., Cardiologist, Capital Region Physicians–Central MO Cardiology
Holly Schroer, Vice President & Trust Officer, Hawthorn Bank
Stevan Whitt, M.D. Chief Medical Officer of University of Missouri Health Care